Benefits of Metal Roofing
Your Home Matters To Us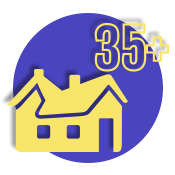 Last Longer
Metal roofs are built to last. They can last up to a minimum of 35 years, which is far beyond the typical roofs of home residents. Traditional roofing needs to be replaced at least every 20 years, and that's if your roof even makes it to that mark. Many times, traditional home roofs need to have heavy repairs that may even lead to full replacement. From storm damage, normal wear and tear, and more, traditional roofing isn't built like metal roofing. Metal roofs last longer and are much stronger than typical roofing.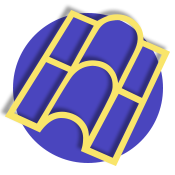 Increased Durability
Just like we mentioned before, metal roofing lasts longer, which means that these roofs are extremely durable. From rain, snow, sleet, hail, wind, and more, the Ontario area truly sees it all. With our metal roofs, your home will be able to withstand all types of extreme weather and need little to no maintenance after. Storm damage is something that many traditional roofs can experience, but with metal roofs, you're less likely to need repairs after a large storm has passed. You'll be able to sleep easier knowing that your home is protected from the elements.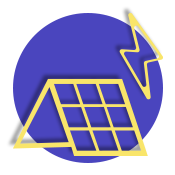 Energy Efficient
Metal roofs can help reduce cooling costs which make them more energy efficient. It can get hot and humid in the summers, and that can cause us to have to crank up the air conditioning. While you may think that the heat may be attracted to the metal roof and cause your home to be even hotter, it's the exact opposite! Our metal roofs protect your home from any excess heat that may be absorbed and then transferred into your home by traditional roofs. Our metal roofs help keep your home cool, helping to save you money on your energy bills. Not only will you be more comfortable, but you'll be saving money that you can put towards other things!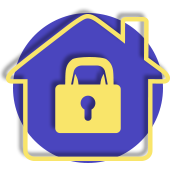 Safer
Metal roofs are a much safer option because they do not spark from lightning or outside fires. Ontario sees a lot of rain, and thunderstorms are relatively common too. Protecting your home with a metal roof can drastically reduce the chance that your home will spark from a lightning storm. Keep your belongings and those that you love safer with a metal roof shield.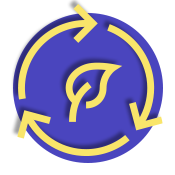 Environmentally Safe
Due to their longevity, metal roofs are environmentally friendly and considered a much more ecological option when it comes to roofing. Many times with traditional roofing materials, shingles tend to fall, break, and deteriorate over time which means that they need to be replaced. Metal roofs are built to last and don't see the typical wear and tear that traditional roofs do. Investing in a metal roof is truly the best of both worlds. Not only does it protect you and your home, but it also helps protect our planet, which is more important than ever!
Your home houses some of the most important and sacred items. From photos of special memories and important legal documents, to art and other furniture, there is so much inside your home that you want to make sure is protected at all costs. Not to mention, your pets and family members that reside there as well! When it comes to your roof, and specifically, our metal roofing services, you want to make sure that you're getting the best of the best. Which is why choosing Home Shield Permanent Metal Roofing is your number one option!
Metal roofing is an incredible material that goes beyond the material of traditional roofs. We like to say that we are the last roofing solution you'll ever need. For over 20 years, our tenured and knowledgeable roofers know all the ins and outs of metal roofing and can execute any level of roofing job that you need. We also only use the best materials, so you can rest assured that a roof from us is built to last.
Learn more about the benefits of metal roofing and our roofing services that we offer. Connect with us directly to get started or to receive a free estimate about your roof!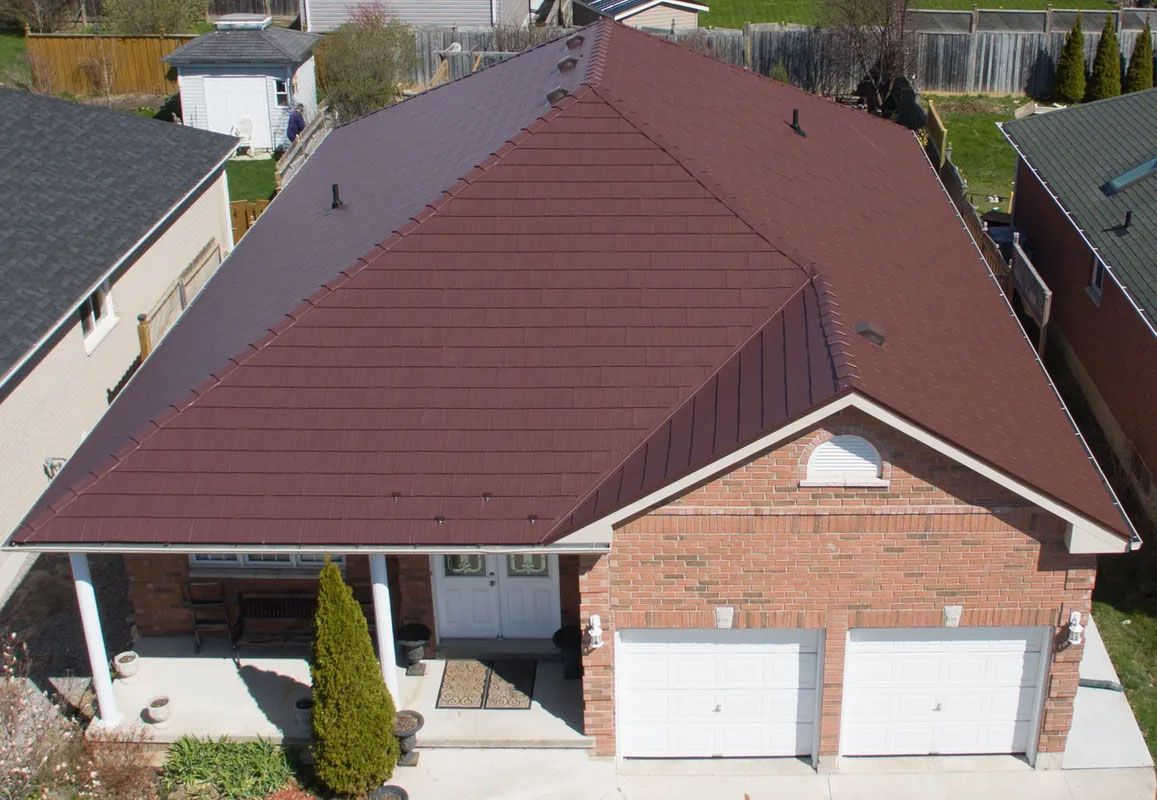 Beautify and Protect Your Home
We've partnered with Canada's best manufacturer to give you the premier metal roofing technology you need, right at your fingertips. Made out of a heavy-gauge G90 galvanized steel, our metal roofing gets installed directly to your roof deck. Not only does this help secure the roof but it also gives you a quieter home than traditional roofing with strap mounted roofing. Each of our metal roof panels then interlock four ways with hidden hurricane clip fasteners and once it's installed, we then go in with paint. Our Kynar500® resin paint comes in a variety of various colors that can be easily matched to fit your home aesthetic. It also minimizes fading for up to 35 years. Our metal roofs are built to give your home permanent protection and to look beautiful! Get the best of both worlds with metal roofing.
Let's take a look at some of the benefits that metal roofing can bring you and your home! Ready to get started with your metal roof? Connect with us today for a free estimate with no obligation. We also offer various financing options. Get in touch with a Home Shield representative either online or by phone!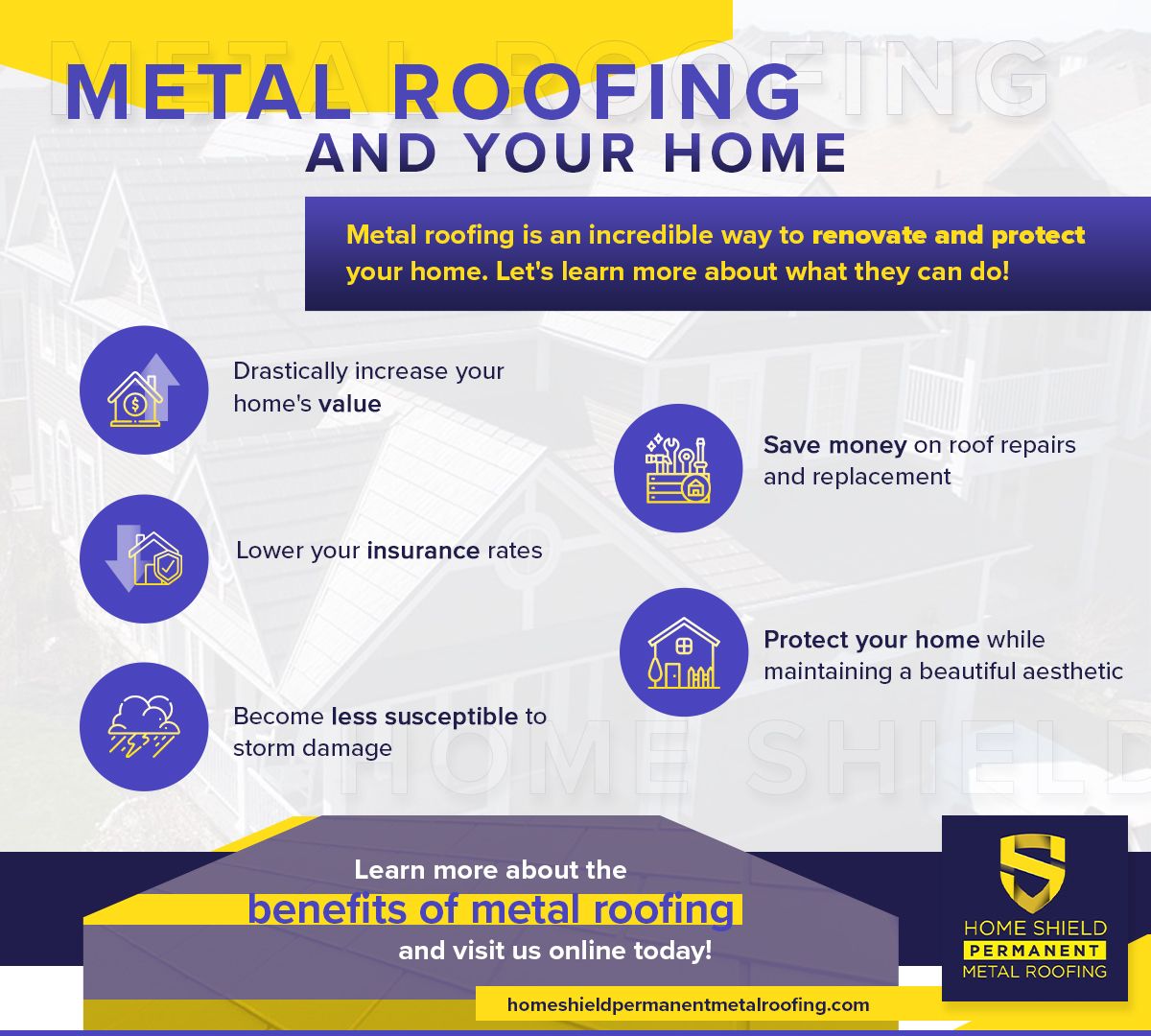 What Metal Roofing Can Do For Your Home
Metal roofing is a relatively new type of roofing, it is not your standard form of roofing and can be a bit pricier that traditional roofing. However, there are so many benefits that metal roofing can bring to your home and beyond!
Let's take a look at some of the incredible benefits that you will experience directly when you invest in a metal roof for your home!
Home Shield Permanent Metal Roofing has been helping thousands of people in Ontario and the surrounding areas experience the benefits of metal roofing. We use only the best of the best when it comes to materials and can guarantee that your roof will be built to last!
When you choose us, you're choosing the highest quality customer service and craftsmanship. We believe that upgrading your roof should be a pleasure, not a hassle. Everyone on our team takes a personal and informational approach when we work with you. We pride ourselves on being proactive listeners and communicate effectively to make sure that every detail is perfect and exceeds your expectations. When you work with us you'll feel relaxed, confident, and excited about your new metal roof! Let us help set your roof and give you peace of mind knowing that you're protected in the best way possible. Schedule your free, no obligation quote today!
We even help with financing! We understand that investing in metal roofing can be a big step. Learn more about our financing options and what we offer! Contact us today via the button or form below to get started with our services.
NEW METAL ROOF, SOFFIT & EAVESTROUGHS
"Very satisfied with the customer service. The installation crew worked hard and efficiently and answered all of the questions we had. They cleaned up around the site each afternoon before leaving and sought feedback from us when needed. We have received many compliments from neighbors and friends, impressed with how "polished" the roof looks. A worthwhile investment that is much more environmentally sustainable than asphalt shingles. First rain was a torrential downpour; we were happy to see that the roof and the eavestroughs shed the water well. Thank you for the great work, Home Shield PMR!"
- Happy Customer
HOME ROOF
"We recently had a new roof put on our house. Every thing about this experience was great. Barry explained the process & answered all our questions. Kept us up to date on eta.
The guys doing the job were friendly, polite, and did a fantastic job. Even going overboard to cleaning the site each day, cutting up old roof boards for us, and informing us we had bats in the chimney! We knew that guy got in somehow!!
We are extremely happy with our new roof. It totally updated the whole place".
-John
NEW METAL ROOF IN CANYON CLAY SLATE
"We just had a new roof installed by Home Shield permanent metal roofing and we chose this company not only for their great product but also because Barry took the time to come and present to us the different aspects of metal roofing and how they compare with other metal roofs as well as shingles. We were immediately struck by Barry's honesty, integrity, great knowledge and friendliness. It didn't feel like he was just delivering a sales pitch, it actually felt like he really cared and stood behind his product, and he has the same metal roof on his home which shows a lot.
We chose the canyon clay color in a slate pattern. We are so amazed at how beautiful and sleek our new roof looks. We have gotten many compliments. a word about the canyon clay in the photos, is that it looks more red in the photos than it does in real life. It is stunning in real life and the pictures don't do it justice.
The installation team, Pat, Alan, Austin and Nevin are the most phenomenal crew that we could have possibly ask for. They have tremendous knowledge about not only metal roofs but roofing in general, they are so respectful, courteous, hard-working and have always been there to answer our long list of questions. Thank you so much guys for your hard work everyday, our roof was very complex and included a lot of intricacies in the installation. We highly recommend Home Shield permanent metal roofing if you are looking for an honest company that will deliver what they said they would, for a fair price and they stick to their schedule. Thank you so much Home Shield permanent metal roofing for making our dreams come true."
-Sylvia P.
Get In Touch
Toll free: 1-866-671-9090 | Peterborough/Kawartha Lakes: (705)-875-6070 | Durham Region: (289)685-0783 | Central Ontario & GTA: 1-866-671-9090
What Are You Waiting For?
Get in touch with your Top Rated Local® Business so we can start working with you today!